3 Myths That May Be Holding You Back From Homeownership Copy
Are you Being Held Back?
There are many misconceptions when it comes to buying a home. Whether you are doing it alone or with a partner, the first step is to get the facts. From finding out your credit score to choosing the right loan program, it can't be denied -- this is one big decision. There are many things to fret about but these 3 myths shouldn't be on the list.
Ill Mannered Brewing Company
Ill Mannered is not a newcomer to Powell, but in August of 2018 this Powell favorite opened a new brewery and taproom just east of its existing location at 38 Grace Dr. The 3,000 square feet of space includes a 1,500 square foot taproom, a 1,500 square foot brewing space and a 1,000 square foot patio featuring a fire pit and food truck access.
Ill Mannered's beer list has grown to 20 taps mainly of Ill Mannered Beer, but also offers Guest Drafts, Ciders, Wine, Spirits, and Cold Brew Coffee. Many times during the week Ill Manerred offers some of the cities most desirable Food Trucks as well as an in-house Kitchen for small plate bites and an offering of local snacks.
Making their beer 93 gallons at a time allows Powell's first brewery the ability to experiment at a small scale and rotate in new beers all the time. Ill Mannered has a rotating group of regular beers such as POWELL! Right In the Kisser IPA, Ill Manna Slamma Blonde Ale, Big Donkey Porter and Effe Off Hefeweizen, but be on the lookout for their collection of specialty beers and rare releases including Audible Groan Barleywine, Subterfuge Russian Imperial Stout and Oldmanski Old Ale and Pandora's Juice Box Pale Ale that are worth consistently checking their beer menu for.
We Recommend: Start off with the POWELL! Right In the Kisser IPA, but make sure you look for one of their seasonal or rare offerings.
Find them: https://www.facebook.com/illmanneredbeer and http://www.illmanneredbeer.com
Huli Huli
Tiki Bars are making a comeback and Huli Huli is the latest to open in Central Ohio and the first opening in the area at 26 W. Olentangy St. In the heart of downtown town Dustin Sun, a Powell veteran with Espresso 22 coffee shop down the road, brings a destination spot to our growing community that he already has a great relationship with.
With just a couple weeks under its belt, Huli Huli has made an impact on the area drawing impressive crowds with their focus on handcrafted cocktails made with house-made juices and syrups that includes the Jungle Bird, Painkiller, Mai Tai, and the Zombie. Huli Huli currently offers a small plate menu including, but not limited to chicken wings, spring rolls, dumplings, and sliders with a goal of growing to a more expansive menu in the future. Along with the cocktails Huli Huli offers traditional frozen drinks and daiquiris, craft beer and wine.
Huli Huli stands out the minute you walk in with it's on the mark concept featuring wooden tiki masks, bamboo, and vibrant colored lighting custom-made light shades. Sit at the bi-level bar and watch the bartender perform their art, bring a group to sit at the group tables or enjoy a date night at one of the high tops or smaller tables. Huli Huli is perfect for a date night or happy hour.
We Recommend: The Zombie or the Mai Tai if you are looking for something less alcohol forward
Find them: https://www.facebook.com/Huli-Huli-Powell-2206887252911293/
Myth #2: "I Need a 20% Down Payment"
Most buyers overestimate how much is needed for a down payment. That is probably why this is the biggest myth amongst first-time home-buyers. While it's better to have a larger down payment, it is not necessary. The time you spend saving for the down payment is also the time you're not building equity and putting your money to work in a home. And if your home value increases over the years, you're building equity even faster. So in some circumstances, it can actually be a better move financially to buy as soon you are able, without waiting to have the 20% of your purchase value.
There are plenty of programs available that allow for a lower down payment budget. For example, those who qualify for an FHA loan can pay as little as 3.5% down, while VA loans allow as little as 0% down for a mortgage.
Myth #3: You Need a Perfect Credit Score
The average American credit score is somewhere around 680. Still, most Americans believe a perfect credit score is over 780, and therefore they need that or higher to buy a home.
However, Ellie Mae's 2018 Insight Report which focuses on recently closed (approved) loans shows that 52.7% of approved mortgages had a credit score of 600-749.
Even if you have a few dings on your credit report, you can still own a home. If you are confused about where you stand with your credit and have questions regarding applying for a mortgage, you should seek homeownership coaching and education.
As you can see, 52.7% of approved mortgages had a credit score of 600-749.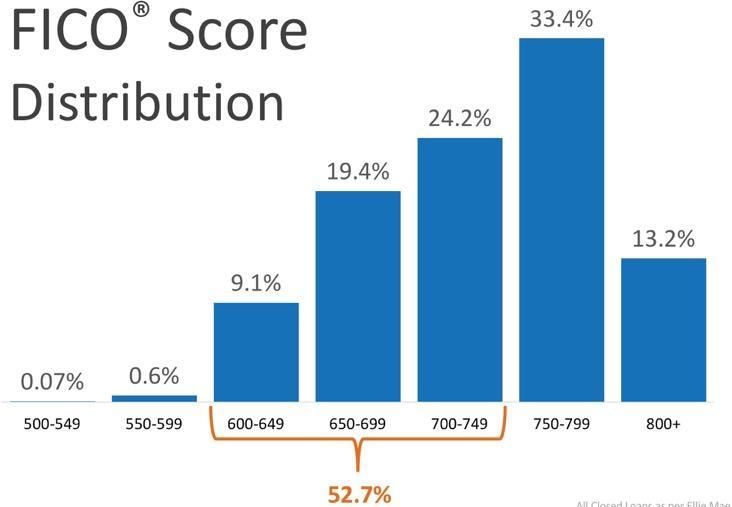 THE BOTTOM LINE
Whether buying your first home or moving up to your dream home, understanding your options will make the mortgage process easier. Your dream home may already be within your reach. Ask the questions you need to know, now.
Want More Secrets?
Have more questions?
Keep Up With Us
We post new content every week!